Our Guarantee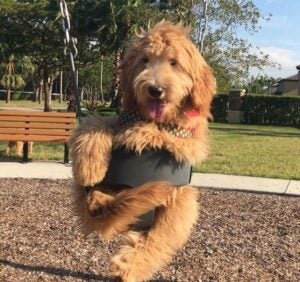 At Paws of Love, we are dedicated to providing happy and healthy Miami Goldendoodle puppies to loving homes. Our assurance begins before your puppies are even born with active and robust purebred parents for first generation Goldendoodles. Our sires and dames are of quality stock, unrelated, and within the perfect breeding age. All of our dogs are treated with love and cared for in private homes, not kennels, for ideal behavior. Prior to you taking your new puppy home, our Goldendoodles go through an extensive veterinary health check. Each dog is vaccinated to date and has followed preventative deworming protocol.
Your terms and obligations:
Initial examination by licensed veterinarian
Timely inoculations
Regular visits for proper health check-ups
Maintain a healthy diet and weight of your dog
Dogs must be spayed or neutered by six months old
As part of the terms of the warranty, you are required to have your puppy examined by a licensed veterinarian within two days of puppy possession to verify the health of the puppy. In the rare case that within 2 years of age your dog is diagnosed by two licensed veterinarians with a congenital, hereditary condition or hip/elbow dysplasia we at Paws of Love will provide an equivalent replacement.
A Lifelong Relationship
At Paws of Love, we care about the lives of all of our Goldendoodles. We love to see photos and hear stories of happy adoptions. If owners are unable to care for their dog, we are always available to locate a new loving home. Let us answer your questions by calling us at (786) 942-4288 today.
Why Buy a Goldendoodle Puppy From Us?
We Are Not a Kennel
Dogs Are Raised in a Private Home
Excellent With Children of All Ages
Very Intelligent Breed
Gentle and Affectionate
Hypoallergenic, Non-Shedding