English Goldendoodle
Smart, Lovable, & Eager to Please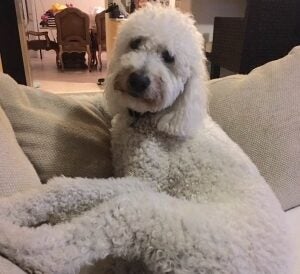 What do you get when you mix the highly trainable and affectionate Golden Retriever with the allergy friendly and intelligent Poodle? One of the brightest, amendable, and popular canines, the Goldendoodle! Find out why 2016 American Kennel Club's third and eight most popular purebred dogs pass down the most desirable traits and qualities to our English Goldendoodle puppies.
Low prey drive
Low to non-shed coat
Intelligent and trainable
Friendly and affectionate
Playful with great energy level
Originally bred to be seeing eye dogs for visually impaired individuals, the Goldendoodle is a designer dog that offers the personality of an English Golden Retriever with the beauty of a Poodle. Nicknamed Miami "Teddybear" Goldendoodles, these adorable plush puppies look like moving cute and cuddly toys! Goldendoodles are also great for people with allergies as they have hair instead of fur. Get started on your application before the next litter is completely reserved by calling us at (786) 942-4288.
Why Buy a Goldendoodle Puppy From Us?
We Are Not a Kennel
Dogs Are Raised in a Private Home
Excellent With Children of All Ages
Very Intelligent Breed
Gentle and Affectionate
Hypoallergenic, Non-Shedding