Miami Goldendoodles
Great for First Time Dog Owners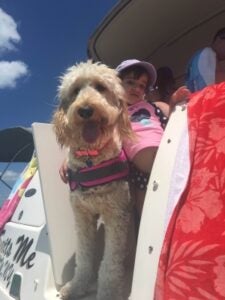 Our Goldendoodles inherit the allergy friendly coat of the purebred Poodle with the intelligence and trainability of the English Golden Retriever. At Paws of Love, we specialize in Goldendoodles, not Labradoodles. Our puppies are only sired from International Champion bloodlines of Golden Retrievers. Our extraordinary red Goldendoodles come from red Poodles who carry the non-fading gene for a beautiful deep red coat into maturity.
Find out more about:
Click to view puppy pictures on our Instagram account
Our friendly and knowledgeable staff is available to answer your questions. We are passionate about Goldendoodles and care greatly about their well-being. While we have high standards for adoption, our litters are often reserved months in advance. Contact us at (786) 942-4288 to find out about upcoming litters as well as guardian opportunities.
Why Buy a Goldendoodle Puppy From Us?
We Are Not a Kennel
Dogs Are Raised in a Private Home
Excellent With Children of All Ages
Very Intelligent Breed
Gentle and Affectionate
Hypoallergenic, Non-Shedding