How to Adopt
Miami Goldendoodle Puppies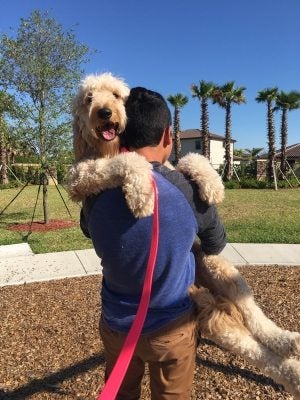 We are glad you have chosen to adopt one of our amazing Goldendoodle puppies! Since litters are reserved months in advance, please read the following to get started on the adoption process. Although there is a waiting period, these little curly coat companions are well worth the wait and this period gives you time to prep your house and family for the new addition.
Steps to adopting include:
Waiting for you puppy to be born and weaned
Providing a deposit for reservation
Filling out and submitting application for approval
Paws of Love reviewing, processing, and approving application
Always a Loving Home for Our Miami Goldendoodles
If at any point after adoption the new owner cannot provide a loving home, rather than abandoning, selling, or otherwise, we will welcome the dog back. At Paws of Love, we understand that situations happen in which new owners are unable to keep their Goldendoodles. Whether it's been 5 months or 5 years, we will welcome the dog back until a new suitable home can be found (provided we have space at the time).
Paws of Love is a caring private home breeder. Our top priority is finding loving homes for our wonderful puppies. For more information about the adoption process for our Goldendoodle puppies, please contact us at (786) 942-4288.
Why Buy a Goldendoodle Puppy From Us?
We Are Not a Kennel
Dogs Are Raised in a Private Home
Excellent With Children of All Ages
Very Intelligent Breed
Gentle and Affectionate
Hypoallergenic, Non-Shedding